ON-THE-
GO
ON-DEMAND MEMBERSHIP
Book workspace on demand,
pay as you go,
with no commitment.
GoWork On-the-Go is intended for those of you who are not yet a GoWork subscription member but want to get access to workspace on-demand at all of GoWork locations, pay-as-you-go with no monthly commitment.
Instant booking and confirmation
Pay-as-you-go
No monthly commitments
Access to over 25 strategic buildings and malls
Becoming a GoWork On-the-Go member is simple: all you need to do is sign up at GoWork! By becoming an On-the-Go member, you can seamlessly book meeting rooms by the hour or work desk by the day through the GoWork App.
Products Available On Demand
Book hot desks by the day,
whenever you need it
Book meeting rooms by the hour,
whenever you need it
Access to multiple workspaces at your fingertips
Available in 25 locations across Jakarta, Tangerang, Surabaya, Bali and Medan
How To Get Started
Once you've signed up, all you have to do is follow these easy steps to start booking spaces on-demand.
Search for GoWork on the iOS AppStore or Google PlayStore.
Find the GoWork location most convenient to you.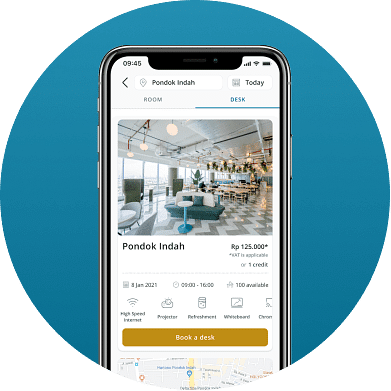 Book a hot desk by the day, or meeting room by the hour.
GoWork Health & Safety Protocol
Learn more how you can help us keep GoWork workspaces safe, comfortable, and clean here.
LEARN MORE >